World Cup 2023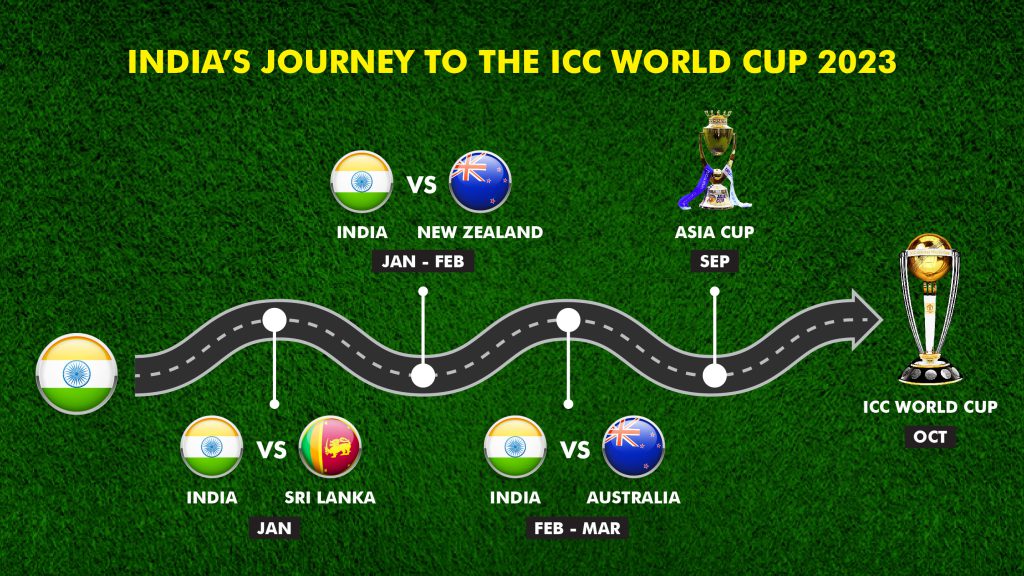 India's way to the world cup 2023
The year 2023 will be crucial for Indian cricket because it is the year of the ODI World Cup, and India is the host country.  host nation , As a host nation India becomes the most favorite of this world cup 2023 due to favorable conditions and pitches and also the crowd the Indian support crowd. The pattern of failing to win or even reach the final of the World Cup has continued in recent years by Indian team
Since the last few years, India has not performed well in global championship competitions. India lost in the semi-finals of the 2015 ODI World Cup, the semi-finals of the 2016 T20 World Cup, the champions trophy final in 2017, the semi-finals of the 2019 T20 World Cup, the finals of the 2021 World Test Championship, knocked out in 2021 T20 World Cup, and the semi-finals of the 2022 T20 World Cup. These numerous setbacks, particularly in knockout games, have created the impression that India chokes in critical games in multination championships. Without a doubt, India is always one of the favorites and a fantastic team in any multi-nation competition, but in this year's World Cup, India must not only perform well and reach the final but also win the World Champion title.
India's prep for World Cup 2023
India began world cup preparations in 2023. In preparation for the World Cup, India will play approximately 17 One-Day International (ODI) matches in 2023. In these matches, India will attempt to determine their ideal starting XI for World Cup 2023, as well as backups.
In January, India faced Sri Lanka in a three-match ODI series. India won all three matches, completing a clean sweep of the series. India clearly outplayed the opposition in all aspects of the game, including batting, bowling, and fielding. India's key batsman scored a lot of runs in this three-match ODI series. India's bowling performance was also top notched where some young fast gun bowler showed their ability to bowl at 150kmph.Overall India look amazing in these 3 matches 
After defeating Sri Lanka India will play a three-match ODI series against New Zealand in January. Unlike Sri Lanka, these three matches against the world's runner-up will not be easy. New Zealand is always a dark horse team, and India has historically struggled in front of the Kiwis, so these three matches will be challenging for both teams.
Australia will visit India in February for the Border Gavaskar Trophy, followed by a three-match ODI series in March. In recent years, India has dominated Australia in all formats of the game. India plays at a high level and with extra aggression when they face the Aussies, but no one in the world will ever take them lightly, no matter how good you have been against them in recent years, and the Kangaroos are currently in full form, with all of their main batsmen scoring runs and their fast bowling unit being the world's best fats bowling unit at the moment. It will great challenge and good practice for India for the world cup 
Unlike last year, and in anticipation of the ODI World Cup, this year's Aisa Cup will be played in 50-over format. However, the venue and teams participating in Aisa Cup are still being finalised due to some complications between boards.But this will be a good practice for the Indian team to play a multination tournament before the world cup it will add more value to there vision of winning the world cup  vision  
Overall, India will prepare well for the World Cup by competing against the best in the format and participating in one multi-nation tournament. As the host nation before the world cup , India will be the favorite for the World Cup 2023.